Ad blocker interference detected!
Wikia is a free-to-use site that makes money from advertising. We have a modified experience for viewers using ad blockers

Wikia is not accessible if you've made further modifications. Remove the custom ad blocker rule(s) and the page will load as expected.
"Día de Enero" (Spanish for January Day) is the third single released from Shakira's 2005 album Fijación Oral Vol. 1, following "La Tortura" and "No".
Background and composition
Edit
Written and composed by Shakira herself, "Día de Enero" is a love song that tells about how she met her boyfriend, Antonio de la Rúa on a January day. The song also makes reference to two famous comics characters "Mutt and Jeff" known in Spanish as "Eneas and Benitín."
Music video
Edit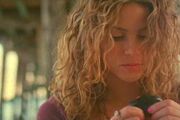 The music video for the song shows Shakira walking along a beach at sunset. She also draws a heart in the sand with the letters "S y A" symbolising her love for her former fiancée, Antonio de la Rúa. It was directed by "No" and "Don't Bother" director, Jaume de Laiguana. This video can be seen on Oral Fixation Volumes 1 & 2 Bonus DVD, and the Spanish edition of Oral Fixation Tour.
Chart performance
Edit
The song peaked within the Top 40 in the Billboard Hot Latin Tracks chart and also made it to number one on the Bubbling Under Hot 100 chart (equivalent to the 101st position on the Billboard Hot 100). The song fared well elsewhere, especially in South America.
Lyrics and video
Edit
Te conocí un día de enero,
con la luna en mi nariz
Y como ví que eras sincero
En tus ojos me perdí
Que torpe distracción
Y que dulce sensación
Y ahora que andamos por el mundo
Como Eneas y Benitin
Ya te encontre varios rasguños
Que te hicieron por ahí
Pero mi loco amor
Es tu mejor doctor
Voy a curarte el alma en duelo
Voy a dejarte como nuevo
Y todo va a pasar
Pronto verás el sol brillar
Tú más que nadie mereces ser feliz

Ya vas a ver como van sanando
Poco a poco tus heridas
Ya vas a ver como va
La misma vida a decantar la sal que sobra del mar
Y aunque hayas sido un extranjero
hasta en tu propio país
Si yo te digo ¿Como dices tu?
Tu aún dices ¿Que decis?
Y lloras de emoción oyendo un bandoneón
Y aunque parezcas despistado con ese caminar pausado
Conozco la razón que hace doler tu corazón
Por eso quise hacerte esta canción
Ya vas a ver como van sanando
Poco a poco tus heridas
Ya vas a ver como va
La misma vida a decantar la sal que sobra del mar