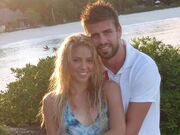 Gerard Piqué-Bernabéu (born February 2, 1987) is a Spanish footballer who plays as a centre-back for FC Barcelona. Piqué is currently dating Shakira, who is exactly ten years his senior, and whom he met in the spring of 2010. Piqué was also featured in the music video for Shakira's "Waka Waka (This Time for Africa)", to celebrate South Africa hosting the FIFA World Cup in 2010. Shakira officially confirmed their relationship on 29 March 2011 via Twitter and Facebook posting a picture of the two with a caption reading, "I present to you my sunshine." in Spanish. In January 22, 2013, he & Shakira welcomed their 1st son, Milan. In January 29, 2015, 5 days after Milan's 2nd birthday, they welcomed their 2nd son, Sasha.
Ad blocker interference detected!
Wikia is a free-to-use site that makes money from advertising. We have a modified experience for viewers using ad blockers

Wikia is not accessible if you've made further modifications. Remove the custom ad blocker rule(s) and the page will load as expected.