Ad blocker interference detected!
Wikia is a free-to-use site that makes money from advertising. We have a modified experience for viewers using ad blockers

Wikia is not accessible if you've made further modifications. Remove the custom ad blocker rule(s) and the page will load as expected.
Shakira ft. Wyclef Jean
Writer(s)
Shakira, Wyclef Jean, Jerry 'Wonder' Duplessis, Omar Alfano, LaTravia Parker
Producer(s)
Shakira, Wyclef Jean, Jerry 'Wonder' Duplessis
Length
3:38
From    
Singles
"Don't Bother"
"Hips Don't Lie"
"Illegal"
Oral Fixation Vol. 2 track listing
"Animal City"
Shakira singles chronology
 
"Hips Don't Lie" is a song based in a salsa and cumbia performed by Colombian singer Shakira and Haitian rapper Wyclef Jean, released in 2006 as the second single from Shakira's second English album Oral Fixation Vol. 2. The song is a reworked version of Jean's 2004 song "Dance Like This" and takes some of its instrumentation from Jerry Rivera's "Amores Como El Nuestro" and lyrics from Dominican composer Luis Dias' "Carnaval (Baila en la Calle)". In addition to co-producing the song, Shakira also wrote new material not present in Jean's original version. A Spanish version of the track, entitled "Será, Será (Las Caderas No Mienten)", was also released.
"Hips Don't Lie" became a global success, reaching the number one spot on the charts in at least 25 countries, including the United States, where it broke the record for the most radio plays in a single week. It was Shakira's first number-one single in the US and the UK, as well as Jean's first number-one single in the US and his third in the UK. It won a People's Choice Award and an MTV Latin America Video Music Award, as well as an MTV Video Music Award for the music video's choreography. The song became one of the best-selling singles worldwide of all-time, selling 16 million copies, and it also became the novena song with the most paid downloads in history.
Background
Edit
"Hips Don't Lie" was reportedly commissioned by Sony Music to revive sales of Shakira's flagging album Oral Fixation Vol. 2, which had come out in late 2005 in time for the lucrative Christmas-buying season. Vol. 2 was Shakira's second album of the year, directly following the Spanish-language Fijación Oral Vol. 1 by less than six months. (As part of a small trend in 2005, Shakira joined Sony label mates System of a Down in releasing two back-to-back albums of new material in a single calendar year.) Ironically, in the crucial U.S. market, Vol. 1 – for which Sony likely had lower expectations given the album's late-spring release and non-English content – actually sold better than Vol. 2, Shakira's first English-language album since her breakthrough Laundry Service four years earlier. Despite its release in a slower sales period of the year, Vol. 1 had bigger first-week sales than Vol. 2 (157,000 copies vs. 128,000), charted higher (#4 – a rare ranking for a Spanish album – vs. #5) and produced a genuine hit single in the #23 hit "La Tortura" with Alejandro Sanz, while Vol. 2's leadoff single "Don't Bother" stalled just outside the Top 40. Vol. 2 was too important a project for Epic, so around the start of 2006 they asked Wyclef Jean to remake his own song with Shakira and give the album a crucial radio hit – a tactic that proved a tremendous success: When Vol. 2 was re-released in March 2006 with "Hips Don't Lie" (plus an alternate version of "La Tortura"), the album shot up 92 spots on the Billboard 200, representing a one-week sales increase of 643 %. As of November 2007, the album has sold close to 2 million copies in the United States, more than half of them the re-release containing "Hips Don't Lie."
"Hips Don't Lie" debuted on the L.A.-based radio station KIIS-FM (on the Ryan Seacrest Morning Show) on February 14, 2006. Shakira and Wyclef Jean performed the song on the following TV shows: American Idol, The Ellen DeGeneres Show, Live With Regis and Kelly, The Today Show, Total Request Live, and the 2007 Grammy Awards. The song can be heard in the EA Sports video game MVP 06 NCAA Baseball, the film soundtrack to Ice Age: The Meltdown, and on MySpace records. soundtrack on 27 Dresses.
The use of the opening trumpets caused a small controversy, when Jerry Rivera openly accused Shakira of plagiarizing the opening trumpets without his knowing, though saying he would not press charges on her. However, rights had been obtained from the copyright owner and Rivera's name acknowledged in the album's booklet.
Less than two weeks after its debut on KIIS, Z100 added the track, and less than a week after it was added to the playlist, it was the most requested song on the station as it hit #1 on the "Interactive 9@9". It stayed on top for about a month. In December 2006 it was announced that "Hips Don't Lie" was the #1 song of the year, a first for both Shakira and Wyclef Jean.
A Spanish version entitled "Será, Será (Las Caderas No Mienten)" was also released. Shakira also sang another version (produced by RedOne) called "Hips Don't Lie/Bamboo" at the closing ceremony of the 2006 FIFA World Cup in Berlin, Germany.
Music video
Edit
The
music video
was directed by British director
Sophie Muller
and filmed in
Los Angeles
,
California
, United States. The video begins with Shakira against a black background dancing while Wyclef and a couple other men are watching her. When Wyclef raps his first rap verse, it shows him following Shakira with pink curtains everywhere. It also shows them on the street along with different people. When the verse 2 begins, she is seen sitting in a chair while singing. It then cuts to an arena-like environment, where Shakira is dancing with other people. It ends with Shakira against the black background. The majority of the costumes and outfits featured in the video belong to the
Carnaval de Barranquilla
, some of which include the white dress Shakira dances in, and the colorful
flags
. Shakira was given dancing lessons for the performance of the song at the MTV Awards by the Indian choreographer
Farah Khan
.
"Hips Don't Lie" has proved successful on LAUNCHcast's top-hundred most-watched videos of the week, where it has spent an impressive four months at number one. Yahoo! had fans submit videos of themselves dancing to the song, which were edited into a "fans only" version, which has also proved to be one of the most popular videos on LAUNCH. The video for "Hips Don't Lie" ran in the #1 spot on iTunes (along with the single) for several weeks. It was the most-watched video of 2006, and has drawn 70 million on YouTube performances.[3] The video won the MTV Video Music Award for Best Choreography on August 31, 2006 and the MTV Latin Award for Song Of The Year on October 19, 2006. The video also placed #2 on VH1's "Top 40 Videos of 2006".
Formats and track listings
Edit
CD single:
"Hips Don't Lie" (featuring Wyclef Jean) [Jean, Duplessis, Shakira, Parker, Alfanno] – 3:41
"Dreams for Plans" [Shakira, Buckley] – 4:02
"Hips Don't Lie" (featuring Wyclef Jean) (Wyclef's Mixshow Mix) – 4:09
Maxi CD single:
"Hips Don't Lie" (featuring Wyclef Jean) – 3:41
"Hips Don't Lie" (Wyclef Remix) (featuring Wyclef Jean) – 3:59
"Hips Don't Lie" (Wyclef Mix Show Mix) (featuring Wyclef Jean) – 4:09
"Hips Don't Lie" (Wyclef Remix Instrumental) (featuring Wyclef Jean) – 3:57
"Hips Don't Lie" (Bamboo 2006 FIFA World Cup Version) – 3:24
"Hips Don't Lie" (Spanish version) – 3:35
2-tracks Maxi single:
"Hips Don't Lie"
"Dreams for Plans"
Japanese release:
"Hips Don't Lie" (featuring Wyclef Jean) – 3:41
"Hips Don't Lie" (Bamboo – 2006 FIFA World Cup Mix) (featuring Wyclef Jean)
"Hips Don't Lie" (Spanish version) (featuring Wyclef Jean) – 3:41
"Hips Don't Lie" (DJ Kazzanova Remix) (featuring Wyclef Jean)
Ringle:
"Hips Don't Lie" (featuring Wyclef Jean) – 3:41
"Hips Don't Lie" (featuring Wyclef Jean) (Wyclef's Show Mix) – 4:09
"Hips Don't Lie" (Spanish Version)[featuring Wyclef Jean] – 3:41
(This CD comes with a code for the free downloadable ringtone)
Lyrics and video
Edit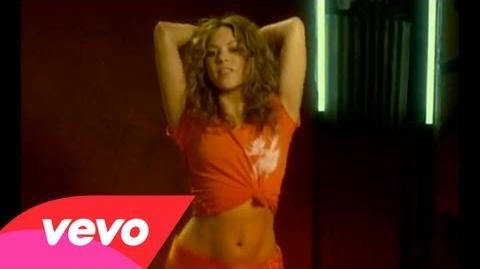 Ladies up in here tonight
No fighting, no fighting
We got the refugees up in here
No fighting, no fighting
Shakira, Shakira

I never really knew that she could dance like this
She makes a man wants to speak Spanish
Como se llama (si), bonita (si), mi casa (si, Shakira Shakira), su casa
Shakira, Shakira
Oh baby when you talk like that
You make a woman go mad
So be wise and keep on
Reading the signs of my body
And I'm on tonight
You know my hips don't lie
And I'm starting to feel it's right
All the attraction, the tension
Don't you see baby, this is perfection
Hey Girl, I can see your body moving
And it's driving me crazy
And I didn't have the slightest idea
Until I saw you dancing
And when you walk up on the dance floor
Nobody cannot ignore the way you move your body, girl
And everything so unexpected - the way you right and left it
So you can keep on shaking it
I never really knew that she could dance like this
She makes a man want to speak Spanish
Como se llama (si), bonita (si), mi casa (si, Shakira Shakira), su casa
Shakira, Shakira
Oh baby when you talk like that
You make a woman go mad
So be wise and keep on
Reading the signs of my body
And I'm on tonight
You know my hips don't lie
And I am starting to feel you boy
Come on lets go, real slow
Don't you see baby asi es perfecto
Oh I know I am on tonight my hips don't lie
And I am starting to feel it's right
All the attraction, the tension
Don't you see baby, this is perfection
Shakira, Shakira
Oh boy, I can see your body moving
Half animal, half man
I don't, don't really know what I'm doing
But you seem to have a plan
My will and self restraint
Have come to fail now, fail now
See, I am doing what I can, but I can't so you know
That's a bit too hard to explain
Baila en la calle de noche
Baila en la calle de día
Baila en la calle de noche
Baila en la calle de día
I never really knew that she could dance like this
She makes a man want to speak Spanish
Como se llama (si), bonita (si), mi casa (si, Shakira Shakira), su casa
Shakira, Shakira
Oh baby when you talk like that
You know you got me hypnotized
So be wise and keep on
Reading the signs of my body
Senorita, feel the conga, let me see you move like you come from Colombia

Mira en Barranquilla se baila así, say it!
Mira en Barranquilla se baila así
Yeah
She's so sexy every man's fantasy
A refugee like me back with the Fugees
from a 3rd world country
I go back like when 'pac carried crates for Humpty Humpty
I need a whole club dizzy
Why the CIA wanna watch us?
Colombians and Haitians
I ain't guilty, it's a musical transaction
No more do we snatch ropes
Refugees run the seas 'cause we own our own boats
I'm on tonight, my hips don't lie
And I'm starting to feel you boy
Come on let's go, real slow
Baby, like this is perfecto
Oh, you know I am on tonight and my hips don't lie
And I am starting to feel it's right
The attraction, the tension
Baby, like this is perfection
No fighting
No fighting