"Illegal" is the third and final single released from Shakira's second English language studio album, Oral Fixation Vol. 2 (2005). It features celebrated Mexican guitarist Carlos Santana. The song was released right after the massive worldwide success of "Hips Don't Lie". The radio release for "Illegal" in the United States and Canada was on November 14, 2006. The music video for the song premiered on November 16, 2006 on MTV's Total Request Live and debuted the next day at #9. It became a hit in countries like Latvia, and Ukraine.
Background
Edit
"Illegal" features a musical collaboration between Shakira and Carlos Santana. The song has been well received by critics and has been highlighted as an example of Shakira's ever-developing strength as an English-language songwriter. Allmusic reviewer Stephen Thomas Erlewine has said that she takes her music into unexpected directions.
Music video
Edit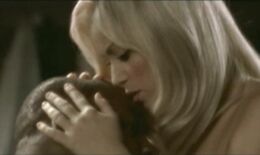 The music video for "Illegal" was shot in Mexico City on October 17, 2006, during a short break in the schedule of Oral Fixation Tour, between concerts in Mexico and Guatemala. The filming took a full day, and some American and Mexican fans were invited over as extras. Jaume de Laiguana and Shakira were the co-directors of the video.
The video features Shakira as the girlfriend of a boxer. Throughout most of the video, Shakira is shown in the empty boxing venue where her former boyfriend boxes. Through flashback, she remembers the good times in their relationship, with them shown in the ring while no one is there, affectionately messing around, among other things. At the end of the video, it is shown why they are no longer together. Shakira comes to see her boyfriend boxing in the championship match. He wins, and not realizing Shakira is there, another girl steps in the ring, and he kisses her, revealing to Shakira he is cheating on her. Her boyfriend, to his shock, finally sees that Shakira is watching him kiss this other girl. Shakira looks back at him, clearly hurt, before turning away and leaving.
The music video officially premiered on 16 November on MTV's Total Request Live. It debuted on the countdown the next day, at #9 and peaked at #7.
There are existing 2 remix music videos: the Johnny Vicious Warehouse Mix and the Johnny Vicious Roxy Mix.
Track listing and formats
Edit
CD 1
"Illegal" [Album Version] (featuring Carlos Santana) – 03:54
"Illegal" [Ali Dee Remix] (featuring Carlos Santana) – 03:49
"Obtener Un Sí" [Album Version] – 03:20
CD 2
"Illegal" [Album Version] (featuring Carlos Santana)
"Illegal" [Alee Dee Remix] (featuring Carlos Santana)
"La Tortura" [Album Version]
"La Tortura" [CD-Rom Video]
Promotional CD (NOT FOR SALE)
"Illegal" [Johnny Vicious Warehouse Mix] 10:00
"Illegal" [Johnny Vicious Warehouse Radio Mix] 3:45
"Illegal" [Johnny Vicious Roxy Mix] 8:00
"Illegal" [Johnny Vicious Roxy Radio Mix] 4:14
"Illegal" [Johnny Vicious Ballroom Mix] 7:28
"Illegal" [Johnny Vicious Ballroom Dub] 5:37
"Illegal" [Johnny Vicious Roxy Dub] 6:10
Lyrics and video
Edit
Who would have thought
That you could hurt me
The way you've done it?
So deliberate, so determined
And since you have been gone
I bite my nails for days and hours
And question my own questions on and on
So tell me now, tell me now
Why you're so far away
When I'm still so close
You don't even know the meaning of the words "I'm sorry"
You said you would love me until you die
And as far as I know you're still alive, baby
You don't even know the meaning of the words "I'm sorry"
I'm starting to believe it should be illegal to deceive a woman's heart
I tried so hard to be attentive
To all you wanted
Always supportive, always patient
What did I do wrong?
I'm wondering for days and hours
It's clear, it isn't here where you belong
Anyhow, anyhow
I wish you both all the best
I hope you get along
But you don't even know the meaning of the words "I'm sorry"
You said you would love me until you die
And as far as I know you're still alive, baby
You don't even know the meaning of the words "I'm sorry"
I'm starting to believe it should be illegal to deceive a woman's heart
You don't even know the meaning of the words "I'm sorry"
You said you would love me until you die
And as far as I know you're still alive, baby
You don't even know the meaning of the words "I'm sorry"
I'm starting to believe it should be illegal to deceive a woman's heart
Open heart
Open heart
It should be illegal to deceive a woman's heart
Open heart
Open heart
It should be illegal to deceive a woman's heart