"Las de la Intuición" (English: "The Ones with the Intuition") is a pop song written by Shakira and Luis Fernando Ochoa for Shakira's 2005 album Fijación Oral Vol. 1. An English version titled "Pure Intuition" did not appear on the album, but it became famous because it was the main theme of the SEAT's campaign "Catch The Fever". It is the fifth and last promotional single from Fijación Oral Vol. 1. The song was recorded and mixed by Gustavo Celis.
Music video
Edit
The music video was filmed in Miami, U.S. under the direction of Shakira and Jaume de Laiguana. The video depicts Shakira wearing a purple wig, a black corset and high heels. Along with four dancers, Shakira holds a purple guitar, and she appears standing next to a car in another scene. The familiar Shakira choreographic motifs of jerky, stylised body movements appear here again.
Shakira has a history of using quirky, sometimes surreal imagery, often with sexual overtones, especially in her Spanish-language releases. This is seen for example in the videos for "La Tortura" and "Te Aviso, Te Anuncio." However this video is much less direct in its sexual focus than "La Tortura" and instead, Shakira teases the viewer with suggestion. It is naughty rather than overtly provocative; for example, in this video she deliberately flashes her frilly white panties, and then shoots the viewer a "look but don't touch" glance. This is a long way from the much more graphic sexual statements in the video for "La Tortura."
Where "La Tortura" describes the bitterness, anger and loss of the end of a relationship, the lyrics of "Las De La Intuición" describe a woman about to successfully, and on her own terms, consummate a romance, and it may be that Shakira is mocking the lengths women go to in order to achieve this end; she is certainly commenting on them. Her repeated, complicitous glances, shrugs and knowing smiles to camera, all devices she has used before, indicate that she is involving the viewer and sharing the joke, which is perhaps that women, the "intuitive ones" of the song, know exactly how to appeal to the male fantasy in order to achieve their desires, and yet remain in control; the lyrics of the song, in which she describes her target as "the perfect victim," make it very clear that Shakira is calling the shots.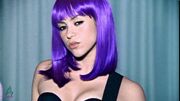 The "War of the Sexes" has long been a recurring theme in Shakira's work, visited as early as "Si Te Vas," which appeared on the album "¿Dónde Están Los Ladrones?" in 1998, yet a great change is apparent: whereas in "Si Te Vas" (If You Go) Shakira is passive, the abandoned lover, powerless except to vent her rage on her betrayer, in recent work Shakira is completely in control, either contemptuously rejecting the former lover who betrayed her and showing him what he has lost, as in "La Tortura," or letting it be known from the start that the woman is in charge, as here. This probably reflects the writer's greater maturity, confidence and power.
A director's cut is out on the internet with more scenes, rearranged scenes, and more silhouette scenes. This video can be seen on Oral Fixation Tour. There is also a remix video called Jonathan Peters Club Mix The video may have been influenced by the work of photographer Helmut Newton. However Newton's work is very pervasive and has influenced photographers, video producers and advertisers for over twenty years, and it seems more likely that Shakira is commenting on the use of Newton's motifs and imagery by the advertising industry in general, so while his influence may be present here, it is not necessarily direct. "¿Pelirroja o morada?". Univision. Retrieved May 4, 2007. It was released May 7, 2007.
Official versions
Edit
"Las De La Intuición" (Album Version)
"Las De La Intuición" (Jim "Shaft" Ryan: Zoned Out Spanish Pacha Red Mix)
"Las De La Intuición" (Jim "Shaft" Ryan: Zoned Out Spanish Radio Pacha Red Mix)
"Las De La Intuición" (RLS: Pacha Red Mix)
"Las De La Intuición" (RLS: Glamour Radio Pacha Mix)
"Las De La Intuición" (Jason Herd: Spanish Radio Pacha Red Mix)
"Las De La Intuición" (John Jacobsen: Epic Space Pacha Red Mix)
"Las De La Intuición" (Richard Grey: Peak Hour Pacha Red Mix)
"Las De La Intuición" (Dazzla: Late Night 'After Hours' Pacha Red Mix)
"Las De La Intuición" (Rox & Taylor: Pacha Red Mix)
"Las De La Intuición" (Femi B & Leggz: Pacha Cool Chill Blue Mix)
"Las De La Intuición" (Nacho Marco: Terrace Pacha Blue Mix)
"Las De La Intuición" (Jonathan Peters Club Mix)
"Pure Intuition" (Las De La Intuición - English Version)
"Pure Intuition" (Jim "Shaft" Ryan: Zoned Out English Pacha Red Mix)
"Pure Intuition" (Jim "Shaft" Ryan: Zoned Out English Radio Pacha Red Mix)
"Pure Intuition" (Jason Herd: English Radio Pacha Red Mix)
"Pure Intuition" (Beatchuggers: Pacha Blue Out Of Sight Mix)
Lyrics and video
Edit
No me preguntes mas por mi
si ya sabes cual es la respuesta
desde el momento en que te vi
se a lo que voy
Yo me propongo ser de ti
una victima casi perfecta
yo me propongo ser de ti
un volcan hoy
El amor tal vez
es un mal comun
y asi como ves
estoy viva aun
sera cuestion de suerte
[Chorus]
Creo que empiezo a entender
despacio, despacio, comienzas a caer
que nos deseabamos desde antes de nacer
te siento, te siento, desde antes de nacer
tengo el presentimiento de que empieza la accion
adentro, adentro, te vas quedando
y las mujeres somos las de la intuicion
asi, estoy dispuesta a todo amor
Yo te propongo un desliz
un error convertido en acierto
Yo me propongo ser de ti
un volcan hoy
el amor tal vez
es un mal comun
y asi como ves
estoy viva aun
sera cuestion de suerte
[Chorus]