"Loca" (English: "Crazy") is a song by Colombian singer-songwriter Shakira. It was released as the lead single from her third bilingual and seventh studio album Sale el Sol. Two versions of the song were recorded, one in English, that features vocals from British rapper Dizzee Rascal, and one in Spanish that features vocals from El Cata. The song premiered on radio on September 1, and later premiered on Shakira's official website. JS remixes of the English and Spanish versions was released to iTunes in some countries on September 10, 2010. The Spanish version of Loca was released on October 4, 2010. Dizzee Rascal stated that Shakira was the one who chose him to feature on the English version of the song, and that he was honored.
The single was not officially released in the United Kingdom and Australia, originally to be released digitally and as a CD single on 13 December 2010. The releases were both cancelled and no explanation has been given since. Even though, "Loca" became another big hit for Shakira in Latin America, Asia, Africa and Europe, following the success of "Waka Waka (This Time for Africa)". It fared moderately well in the United States, becoming Shakira's ninth top forty hit and also Dizzee Rascal's first charting single there.
Background
Edit
"Loca" is an interpretation of the artist El Cata's song "Loca Con Su Tiguere". Shakira changed some instrumental melodies, gave the song a different beat and changed the lyrics. The song is heavily Latin influenced as it consists of contemporary merengue music with pop lyrics and rap over it. About the collaboration Dizzee Rascal said that "I know it sounds a bit mad now, but you'll see it and see what's going on", he said. "It's me doing something different man, on a merengue tip." Dizzee also talks to Billboard.com and said about collaboration that "She's a bit of a trendsetter -- she does loads of different things on a major scale". He added "You'd expect her to use an American rapper [for the song], but she chose me. It meant a lot." He continued "I'd like to be in that Spanish market. I got into the whole reggaeton thing when it came out, so I always wanted to get around to something like that".
Music video
Edit
The music video was filmed during a visit in
Barcelona
, Spain in August 2010. It was directed by long-time Shakira collaborator
Jaume de Laiguana
. On September 23, a sneak preview of the video was released on Shakira's official website, showing her rollerskating, riding a motorcycle and dancing in a big fountain surrounded by fans. The music video was released Wednesday, September 29, 2010. James Montgomery from
MTV
compared the video to
Matt & Kim
in their "Lessons Learned" clip and
Erykah Badu
in her video "Window Seat". The
Spanish
city reportedly is considering fining the
Colombian
singer for stopping traffic as she filmed a music video, reports the
New York Post
. Shakira, who did not get any permits, danced in a public fountain (Pla de Palau fountain) and rode on the back of a motorcycle with her hair flowing in the wind, when she should have worn a helmet. About the video Shakira said "The video is just about having fun and being real in this amazing place with real people." The Spanish version of the video was released as the free video of the week on iTunes on 21 December 2010.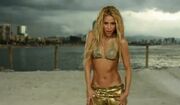 Walter Frazier from Billboard said that "Fitting to the theme of the song, Shakira dances in a water fountain, attracting passersby (she's Shakira, after all). Not surprisingly, some join her in the craziness and jump in the fountain. The song ends with Shakira, surrounded by her fans, dancing in open water. Shakira's right -- she's crazy but we like it." James Montgomery from MTV gave positive views about the video and said that " It's a decidedly guerrilla endeavor that appears to have been done on a budget hovering around zero (aside from a performance scene, the entire thing appears to have been shot on handheld cameras). The Britneys, Beyoncés and Gagas would probably never make something like this ... and yet, here it works, mostly because, well, it just sort of seems like the kind of thing Shakira would do. "Loca" is the rare video that doesn't attempt to outshine the song it's based on. Instead, it complements it. There's a calculated madness to the "Loca" video, a vibrant, unchained energy, the kind very few artists can conjure up, no matter how big the budget. And, come to think of it, that's a pretty accurate way of summing up Shakira's entire career. It's called synergy, people." The Sun Daily said that the backdrop for the single was the handheld camera and "Shakira opted to go away from the traditional big production music video to portray a spirited, fun-filled day being 'loca' in the streets with the people of Barcelona."
Formats and track listings
Edit
Digital download (English Version)
"Loca" (featuring Dizzee Rascal) – 3:11
Digital download (Spanish Version)
"Loca" (featuring El Cata) – 3:04
CD single
"Loca" (featuring Dizzee Rascal) – 3:11
"Loca" (featuring Dizzee Rascal) (Gucci Vump aka Brodinski & The Shoes Discothèque Remix) – 4:07
Digital EP
"Loca" (featuring Dizzee Rascal) (JS Mix) - 3:13
"Loca" (featuring Dizzee Rascal) (Sticky Drums Remix By Gucci Vump Aka Brodinski and the Shoes) - 3:14
"Loca" (featuring Dizzee Rascal) (Freemasons Radio Edit) - 3:01
"Loca" (featuring Dizzee Rascal) (Music Video) - 3:24
Lyrics and video
Edit
Loca...
Loca...
Dance or die...
Loca...
Loca...
She's playin' dumb all the time
Just to keep it fun
To get you on like (ahh!)
Be careful amigo
she's talkin and walkin just to wake you up
She'd die for your love
But your love's only mine, boy
Sigo tranquila
Like I'm on a beach in Anguilla
Sippin' my Corona
Like it's nothin' goin' on
I ain't leavin' you alone
What is meant for me
No other girl is gonna take it
So give him up
And I'm crazy, but you like it (loca, loca, loca)
You like that it ain't easy (loca, loca, loca)
I'm crazy but you like it (loca, loca, loca)
Crazy but you like it
[Dizzee Rascal]
That girl is a naughta
I heat up when I touch her
Chica caliente
Got me rapping to merengue
I feel so el presidente
I'm runnin' shit and I'm lovin' it
She's got a mean lil' butt,
But you should see what she does with it
She keeps it down low (down low, down low)
I can never get enough (oh no, oh no)
She gives me the runaround,
But I stay chasin'
But I mean, yo, I'm in love
With a crazy girl
But it's all good
And it's fine by me
Just as long as I hear her say, "Aye, papi"
And I'm crazy, but you like it (loca, loca, loca)
You like that it ain't easy (loca, loca, loca)
I'm crazy but you like it
Crazy but you like it (loca, loca, loca)
You're the one for me
And for her no more
Though you think she got it all
I got one kiki
You're the one for me
And for her no more
Though you think she got it all
I got my kiki
There's a lot of things
That I'd do to please you
Take you to the medico por el caminito
They saw your girlfriend looking for me with a rifle
Cuz we're dancin' Mambo
Oh, what she don't allow it?
I really can't help it
If I make the lady loca
I don't want no troublev I just wanna hit the (Ooh!)
And I'm crazy, but you like it
'Cause the kinda girl like me
They're running out of in the market
You like that it ain't easy (loca, loca, loca)
I'm crazy but you like it (loca, loca, loca)
Crazy but you like it (Dios Mío)
That girl is (loca)
That girl is (loca)
That girl is (loca)
Loca
That girl is (loca)
That girl is (loca)
You're the one for me
And for her no more
Now you think she's got it all
I got my kiki
And I'm crazy, but you like it (loca, loca, loca)
You like that it ain't easy (loca, loca, loca)
La loca, la loca, la loca (loca)
Loca (loca)