Shakira ft. Pitbull or El Cata
Writer(s)
Shakira, Armando Pérez, Edward Bello
Producer(s)
Shakira, Luis Fernando Ochoa, Josh Abraham, Oligee, El Cata, Jim Jonsin
Length
2:50
From    
Sale el Sol track listing

"Mariposas"

"Devoción"
Shakira singles chronology
 
"Rabiosa" (Spanish pronunciation: [raˈβjosa], English "rabid" or "furious") is a song by Colombian singer-songwriter Shakira featuring rappers Pitbull and El Cata. It was released as the third single from her third bilingual and seventh studio album, entitled Sale el Sol. Two versions of the song were recorded, one in English, that features vocals from rapper Pitbull, and one in Spanish that features vocals from El Cata. "Rabiosa" entered the top ten of the Spanish Singles Chart, charted within French Singles Chart and the Bubbling Under Hot 100 Singles, and received positive reviews from American critics such as Billboard. The music video for the song was shot in late April in Barcelona, Spain. The song has been certified Gold in Belgium and Switzerland, and Platinum in Spain and Italy, has also achieved the number one in Brazil, Greece, Portugal and Spain. It also reached the top ten in Austria, Belgium, France and Italy.
Background and composition
Edit
"Rabiosa" was originally written and performed by El Cata on his first album "El Malo", as with another track on Sale el Sol, "Loca".
Musically, "Rabiosa" is a Merenrap/Dancehall reggae song with Latin and rap influences. Shakira recorded the song in the summer of 2010 in the Dominican Republic with Pitbull and El Cata. The trio wrote and produced it, along with Dizzee Rascal. The lyric "Aráñame la espalda y muérdeme la boca" echoes Jaime Torres Bodet's verses "Apóyate de amor sobre mi espalda y muérdeme la boca".
There are two different versions of the song. The original English language version features Pitbull and includes some Spanish lines, while the Spanish version features El Cata and was released as a single in Spain, South America, Mexico and France. The lyrics are both sung and spoken in English as well as in Spanish, ending with Code-switching, a type of phrasing that combines both Spanish and English words and expressions ("Bite me en la boca").
Music video
Edit
Development
Edit
The music video for "Rabiosa" was shot from April 26 to April 28, 2011 in Barcelona, Spain. The video was meant to feature Pitbull and El Cata. The director of the video was Jaume de Laiguana, who also directed Shakira's previous videos for "Gypsy", "Loca" and "Sale el sol" and many others. The video was described as having a "partying atmosphere" by those who took part in the shootings.
A 30-second teaser of the video was released via Shakira's official website on May 18, 2011. As seen in the teaser, the music video will feature a house party including a tub scene. In this video, Shakira wears a dark brunette French bob wig. The video was scheduled for July 1 at the height of summer, but its release was brought forward to June 7, 2011. It premiered at 12:00 UTC+1 via YouTube and VEVO. The video is marked by the absence of Pitbull. Other scenes show a blonde Shakira Pole-dancing in a black Brassiere and G-string. On July 28, 2011 another version of the video was released with Pitbull.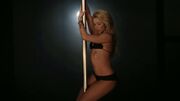 The video starts with a man opening the gate to a party inside a house for Shakira. We then see a scene depicting people partying, a couple kissing (pushing the camera away from them) and a man smoking, exhaling his smoke in Shakira's direction as she makes her way through the corridor. After walking down a staircase she finally reaches the house's basement, where people are throwing confetti and party-string towards the camera while Shakira makes her way towards a guy with whom she starts to flirt. The video cuts repeatedly to shots of Shakira, with long blonde hair, pole-dancing in a dark room filled with bright lights. She continues flirting with the guy, who pushes her into a dry bathtub filled with coloured plastic balls and teasingly throws more in her direction. In the final scenes, she ends her pole dancing in a leg split, paying an homage to her 2009 music video "She Wolf" which took part in a golden cage, and in the ending scene she crowd surfs away.
Formats and track listings
Edit
Digital download
"Rabiosa" featuring Pitbull — 2:50
German CD single
"Rabiosa" featuring Pitbull — 2:50
"Rabiosa" featuring Pitbull (C Berg Remix) — 4:00
Rabiosa (Juan Magan Remix) digital single
"Rabiosa" featuring El Cata (Juan Magan Remix) - 3:12
Remixes digital download
"Rabiosa" featuring El Cata - 2:50
"Rabiosa" featuring Pitbull - 2:50
"Rabiosa" featuring Pitbull (C Berg Remix) - 3:57
"Rabiosa" featuring Pitbull (7th Heaven Radio Edit) - 3:34
"Rabiosa" featuring Pitbull (7th Heaven Club Edit) - 7:19
"Rabiosa" featuring Pitbull (The Crew Remix) - 3:48
"Rabiosa" featuring Pitbull (Club Junkies Radio Remix) - 3:27
"Rabiosa" featuring Pitbull (Club Junkies Club Remix) - 6:28
"Rabiosa" featuring Pitbull (Sensei Electro Dubstep Remix) - 3:25
"Rabiosa" featuring El Cata (C Berg Remix) - 3:57
"Rabiosa" featuring El Cata (7th Heaven Radio Edit) - 3:36
"Rabiosa" featuring El Cata (7th Heaven Club Edit) - 7:17
"Rabiosa" featuring El Cata (The Crew Remix) - 3:48
"Rabiosa" featuring El Cata (Club Junkies Radio Remix) - 3:28
"Rabiosa" featuring El Cata (Club Junkies Club Remix) - 6:28
"Rabiosa" featuring El Cata (Sensei Electro Dubstep Remix) - 3:26
Lyrics and video
Edit
Rabiosa
If you don't get enough I'll make it double
I got my boy now in big, big trouble
You know I want you
Atracao ahi
Ratata
You've got too much of that sex appeal
Don't play around because I'm for real
You see that road isn't meant for me
You know I want you amarrao aqui
Oye papi
If you like it mocha
Come get a little closer
And bite me en la boca
Oye papi
If you like it mocha
Come get a little closer
And bite me en la boca
Rabiosa, rabiosa
Come closer, come pull me closer
Yo soy rabiosa, rabiosa
Come closer, come pull me closer
Rabiosa,
if you don't get enough I'll make it double
I'm tryin to have fun and
I love you but you want me
Atracao (ratata)
You got a lot of sex appeal Now baby I'm for real
You see that road isn't meant for me
You know I want you amarrao aqui
Oye mami
Let me get that mocha
Come get a little closer
And bite me en la boca
Oye papi
If you like it mocha
Come get a little closer
And bite me en la boca
Oye mami
I like your mocha
Come get a little closer
And bite me en la boca
Oye papi
If you like it mocha
Come get a little closer
And bite me en la boca
Rabiosa, rabiosa
Come closer, come pull me closer
Yo soy rabiosa, rabiosa
Come closer, come pull me closer

Oye mami
Let me get that mocha
Come get a little closer
And bite me en la boca
Oye papi
If you like it mocha
Come get a little closer
And bite me en la boca
Oye mami
I like your mocha
Come get a little closer
And bite me en la boca
Oye papi
If you like it mocha
Come get a little closer
And bite me en la boca