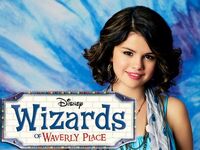 Wizards of Waverly Place is an American Disney Channel Original Series which ran from October 12, 2007 to January 6, 2012 on Disney Channel. Shakira guest starred as herself on Season 4, Episode 12, "Dude Looks Like Shakira" which aired on April 16, 2010.
Episode Summary
Edit
Theresa and Jerry go on vacation and leave Uncle Kelbo to watch the kids. When Uncle Kelbo comes he is not him, he is Shakira. He confess to them that there is no Shakira and that he made her up years ago. Uncle Kelbo tells them that there is a strict law against using magic for fame and fortune, Max and Alex try to find a cure so that Uncle Kelbo can stay his real self. Max finds a spell and has the same problem as Uncle Kelbo, except he turns into a garbage can.
Ad blocker interference detected!
Wikia is a free-to-use site that makes money from advertising. We have a modified experience for viewers using ad blockers

Wikia is not accessible if you've made further modifications. Remove the custom ad blocker rule(s) and the page will load as expected.